Results & Destinations
Academic
Year 11 Results (2023)
Our latest GCSE results show a remarkable 57.8%% of 9-8 Grades, with 32.1% of all results at Grade 9. 74.3% of examinations were awarded Grades 9-7, which constitutes a remarkable increase of 6% on 2019 results.
These results are the best ever in non-Covid times. Fourteen outstanding candidates were awarded nine or more Grade 9s, with 130 between them – that is 11% of the year-group with at least nine of the top elite grades.  Within this number, seven students have ten or more Grade 9s, including two who have unbroken strings of 9s, one with twelve and a second with eleven.
| | GCSE 2023 | GCSE 2019 |
| --- | --- | --- |
| 9 | 32.1% | 33% |
| 9-8 | 57.8% | 52% |
| 9-7 | 74.3% | 68% |
| 9-6 | 88.1% | 83% |
| 9-4 | 98.1% | 98% |
Stellar Results for Channel Swimmer Rose
Well done to Rose, who has been awarded nine Grade 9s, one 8 at GCSE. These results are amazing by any measure, but they are all the more impressive because, in the middle of her GCSEs, she swam across the Channel to France as part of a relay team raising £7000 for Ukrainian refugees! 'I was really worried in case the race clashed with one of my exams. Luckily, we were given an 11pm departure time, so I sat my Biology paper in the morning and rushed to Dover to start the swim that evening.'
Rose is taking Maths, Further Maths, Physics, and Chemistry at A Level at Roedean – congratulations!
Eight 9s and More for Maria!
Well done to Maria, who has achieved outstanding results at GCSE – eight Grade 9s and one Grade 8.  Maria said, 'getting these results is the icing on the cake – I'm usually nervous about the start of a new academic year, but, for the first time ever, I am returning from the summer really excited about the challenges ahead at Roedean.' 
Maria throws herself into all aspects of school life, including cricket and the performing arts, and was one of the students who visited our sister school in South Africa in 2018.  Maria is looking forward to studying French, Geography, History, and Psychology at A Level.  Well done!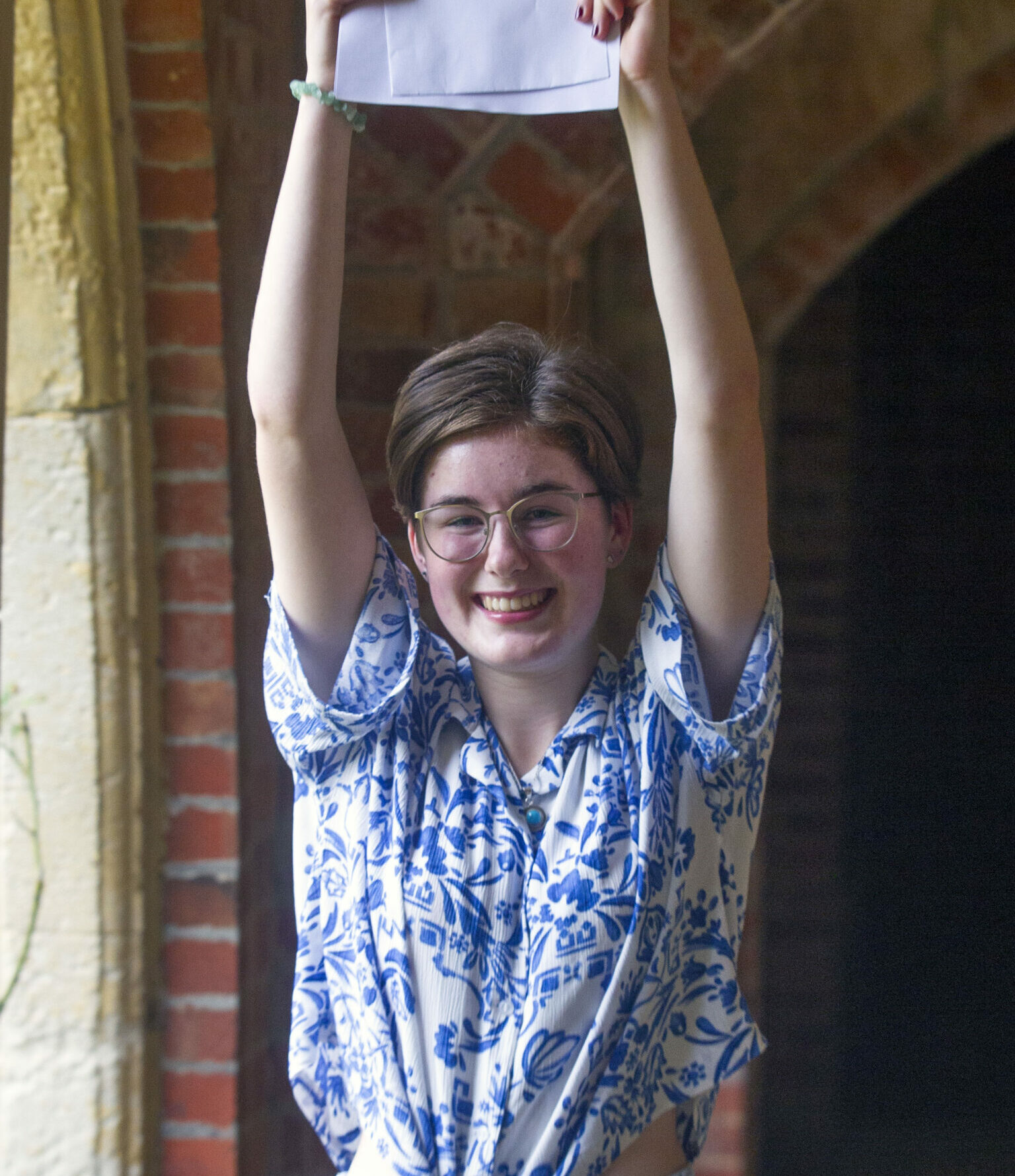 Year 13 Results (2023)
The Class of 2023 have achieved remarkable A Level results, with 28.2% of all grades at A*, and 55.5% at A*-A.  
Nine students, 10% of the cohort, achieved straight A* grades, with 29 top grades between them, and almost one third of the students were awarded all A* and A Grades.  Underlining their calibre, over half of the year-group were awarded at least one A* grade, and the percentage of grades at A* far exceeds all previous results excluding the Covid years – there is no doubt that they are the product of outstanding diligence and commitment to success.
Overall, 73% of the cohort achieved the grades for their first-choice university, including Oxbridge.
| | A Level 2023 | A Level 2019 |
| --- | --- | --- |
| Grade A* | 28.2% | 22.4% |
| Grade A* – A | 55.5% | 55.9% |
| Grade A* – B | 83% | 77.9% |
| Grade A* – C | 94.9% | 94.3% |
3 A* Grades at A Level for Keira – Outstanding!
Keira, who has been at Roedean for 7 years, has achieved a remarkable haul of three A* grades in Art, Politics, and Spanish. She is absolutely delighted that all her hard work paid off, as are her Mum and Dad – 'my parents started sobbing', she laughed. In October, she starts an exciting degree course in Liberal Arts and Sciences at Birmingham University – Keira likes the fact that she will have so many options, and that the course allows her to keep so many doors open. 'It's a great place, and all my friends are within a two-hour radius too.' Good luck, Keira!
A*A*A* and a Distinction for Betty
Congratulations to Betty, who has been awarded A*A*A* in Art, Maths, and Physics, as well as a Level 3 Foundation Diploma in Art! She was one o the trailblazers for an exciting new opportunity for exceptional    artists at Roedean – she took her A Level in Art in Year 12 after just one year, achieving a top grade, and then she completed her Art Foundation course. This is normally only open to university students, so she has done brilliantly to get this qualification, particularly with Distinction. Betty will be starting her degree in Architecture in October at Edinburgh University. Well done, and good luck!